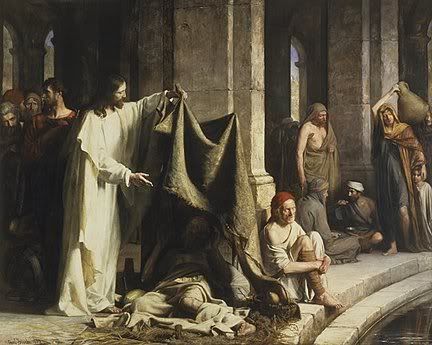 This morning when I woke up I noticed the sun shining through my window...the sun! At last! But all day today I felt a special spirit which didn't have too much to do with the weather. It was more to do with my testimony of the gospel. After a day like today, I feel like shouting it from the rooftops, or writing it in a letter to a friend, or even just singing a hymn about it. Jesus Christ
did
die for us, He
did
suffer for us, and He
did
perform the greatest miracle of them all when He was resurrected from the grave. I know it! I know it more than I know anything else, and I also know that He loves us. He loves us so perfectly that we can't even comprehend it--we can only feel it and act upon it.
In the past year, especially in these few years I've been up at school, I have felt myself grow closer to Him.
Last semester
I learned that early morning scripture study is the best way to build our foundations on Christ. I also learned that morning prayers are an important key to having the Spirit with us all day. I learned that making time for the temple each week is another special way we can become closer to the Lord and show our love for Him. This semester, my goal is to serve people more--to really get to know them and find out what their needs are. I'm not saying I'm going to know all of their troubles and sorrows, because I'm not like Christ in that I know everyone perfectly. But I can lead others to Him by treating them as He would. I can be His hands.
I hope you all had a lovely Easter!
I wanted to share this video with you as soon as I watched it (thanks dad). It really exemplified Christlike love for me and I thought it was appropriate for this day. Love to you all!